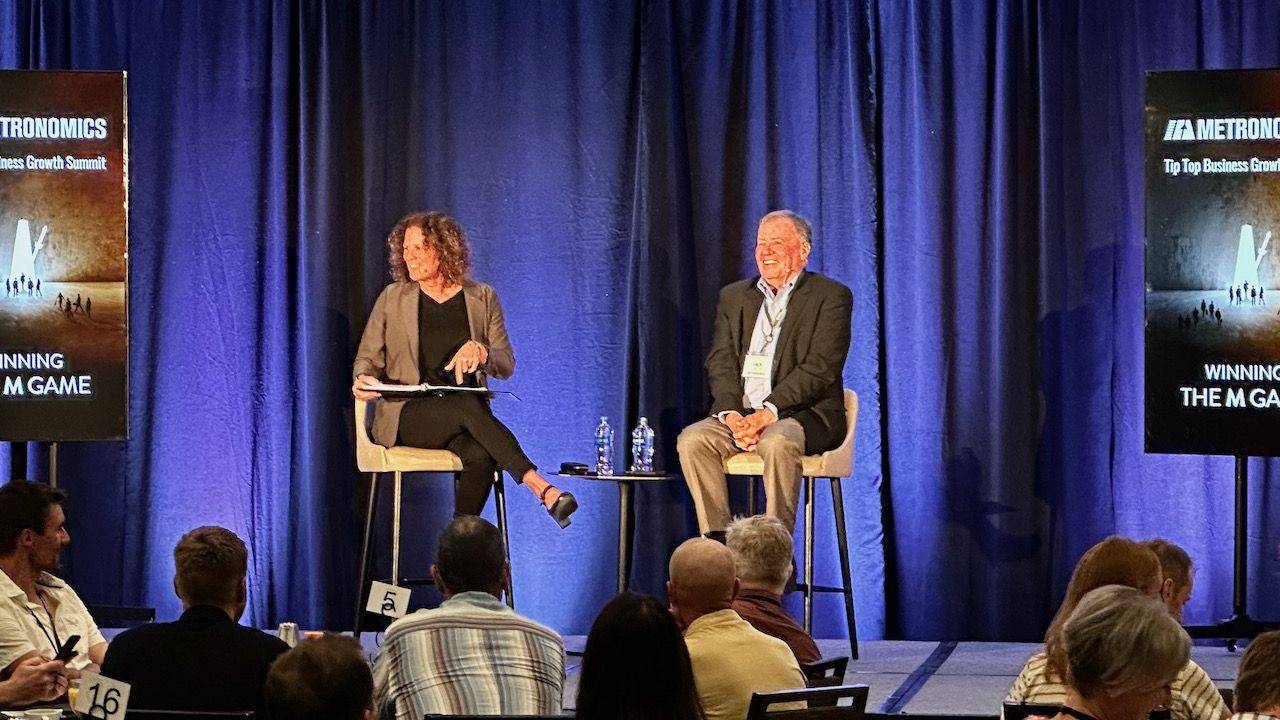 Conquering the Holy Trinity of Growth
May 25, 2023
The Swiss celebrated the Pentecost weekend by sunning themselves beside the lake. They call it Whit Monday, the day the Holy Spirit descended upon the Apostles. For my part, lying beside the lake, soaking up the sun, gave me time to reflect on conversations from the past few weeks and contemplate The Holy Trinity of Business Growth—or, in some cases, unholy.
I'm just back from the Metronomics Tip Top Summit in Vancouver and, a week before, the Small Giants Summit in Detroit. This year's Small Giants event theme was 'Transitions,' while the Tip Top summit focused on growing healthy businesses. Presentations and conversations at both events highlighted the three barriers to business growth: leadership, external market factors, and scalable systems—the Holy Trinity of Business Growth.
Leadership
In small businesses, leadership plays a pivotal role in driving growth. More often than not, I see founders and owners standing in the way of business growth. When this happens, it causes misalignment, limited innovation, and stagnant growth.
In contrast, successful leaders foster a culture of empowerment, allowing employees to take ownership of their work and contribute to the company's growth. Strong leaders encourage their teams to explore new ideas and drive innovation by providing guidance, support, and autonomy.
By leveraging your employees' diverse skills and perspectives, you foster an environment that thrives on collective problem-solving and generates fresh insights.
Patagonia, a well-known outdoor apparel company, has demonstrated exceptional leadership by prioritizing environmental sustainability. Founder Yvon Chouinard's commitment to corporate social responsibility and emphasis on empowering employees to drive positive change has enabled Patagonia to grow while staying true to its values.
External Market Dynamics
Small business owners constantly grapple with the challenges of adapting to external market forces, which can be particularly daunting given limited resources. The trick is to keep ahead of what's happening in your external environment rather than letting environmental factors overtake you.
For example, one client made analyzing external market dynamics a top agenda item at their weekly meetings. Each leader brought at least one challenge or opportunity to the meeting, for example, potential shortages of raw materials due to shipping challenges, conflict in a region, or looming labor shortages. We discussed each challenge, identified appropriate actions, and revisited top challenges every week until they were solved or became non-issues.
Jack Stack, the visionary behind SRC Holdings, has masterfully guided the company's growth since its inception in 1983, notably due to his ability to strategize and capitalize on market dynamics. Transforming an endangered Springfield engine factory into a diverse conglomerate with an annual revenue exceeding $600 million, Jack's strength lies in his keen ability to turn economic downturns into opportunities.
Jack's foresight in market trends has allowed him to use recessions as launching pads for business growth. Following the 2010 recession, he strategically reserved $100 million to shield the company from the anticipated 2020 downturn. I had the opportunity to speak with Jack at Tip Top and always marvel at how he ingeniously turns challenging market conditions into opportunities for advancement.
Scalable Systems
Building scalable systems (something I wrote about in 'My Core Four') is essential for businesses aiming to grow efficiently. Inadequate systems can hinder productivity and limit expansion.
To address this barrier, you should focus on streamlining your operations. Start by documenting your processes, then identify and eliminate bottlenecks to improve efficiency. Automation tools, inventory management systems, and business operating systems can streamline operations, enabling you to handle increased demand without compromising quality.
Building and investing in your team gives you the capacity to scale. Developing cross-functional expertise and empowering employees to take on additional responsibilities fosters growth and adaptability.
Mailchimp, an email marketing platform, started as a small business and scaled rapidly by offering user-friendly tools for small businesses. By investing in scalable technology infrastructure and continuously improving their platform, they were able to meet the growing demand and expand their customer base significantly.
The Growth Trinity is a double-edged sword. Get it right, and your business is primed for exponential growth. Get it wrong, and you're doomed to mediocrity. You can achieve remarkable growth by empowering employees, exploiting market dynamics, and investing in streamlined operations.